50-year-old, Jinda, from London recently underwent the Obagi skin care program under the care of Cosmetic Surgery partners' nurse Lindsey Silker. Ever since Jinda can remember she had been unhappy with her skin and, as she aged, it had worsened, suffering from extreme uneven pigmentation, dullness and oversized pores she began to feel extremely self-conscious. In 2015 Jinda discovered Obagi skin care and, after reading about the hydroquinone and tretinoin treatment, she decided to explore further. After speaking with Lindsey at Cosmetic Surgery Partners she was invited to a skin care consultation using the latest state-of-the-art computer aided VISIA technology. From this analysis Lindsey was able to prescribe Jinda with personalised program of Obagi products in order to target her problem areas.
Obagi is a uniquely powerful skincare line and offers a number of skincare systems and products that can be prescribed after a consultation and examination of your skin. It's active ingredients hydroquinone and tretinoin treat damaged skin, and with a wide range of products available for all skin types, there's something available to improve skin concerns.
With guidance from nurse Lindsey, Jinda, began the 14-week program. Embarking on an Obagi skin care regime does require perseverance and patience and Jinda had to set aside a little extra time in her morning routine to apply the several creams and treatments. However, the hard work payed off and by January 2016, her skin looked rejuvenated, her pores appeared noticeably smaller, she had fewer lines and she had a much more even tone. All in time for Jinda's 50th birthday celebration, friends and family couldn't believe the difference, her skin was glowing.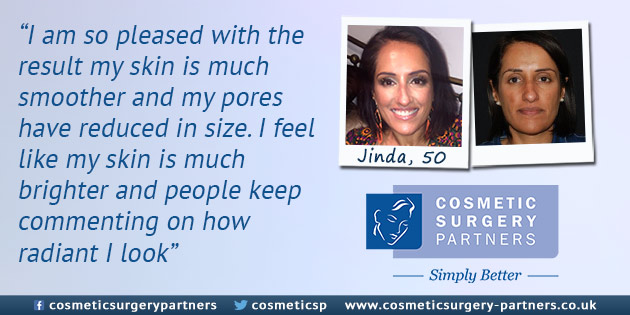 What Jinda has to say:
I was unhappy with my skin and had been for a while so decided to look into Obagi. The skin care consultation with skin specialist Lindsey was very useful and really highlighted areas of my skin that could be improved. The fact that Lindsey prescribes you a personal skin care regime to suit you and your skin, designed especially for you and not for the masses.
I underwent the Obagi treatment for four months, over that time my regime changed as my skin did. I was guided by the excellent Lindsey, she prescribed me different creams and advised me on usage. Once I had completed the Obagi program I began to reduce usage and began a maintenance program.
I am so pleased with the result my skin is much smoother and my pores have reduced in size. I feel like my skin is much brighter and people keep commenting on how radiant I look. However, I will admit that these amazing results came with hard work, the program takes perseverance. I would recommend it to anyone who has any concerns or insecurities about their skin, however you definitely need the support and advice of an expert like Lindsey to advise you every step of the way.