Fi Todd's Rhinoplasty Journey
22 year old Fiona Todd from Farnham in Surrey has recently undergone rhinoplasty with Nick Percival FRCS of Cosmetic Surgery Partners. For as long as she can remember, Fiona has always been self-conscious and paranoid because of the shape and size of her nose. The main issue she had was the hump on the bridge, which made her feel like her nose was too large for her face. The nasal hump became very apparent from a side on view. Since a very young age, Fiona has always said she would get a nose job if she had the chance in order to feel better about herself.  Whilst at school, she can remember classmates making comments about her nose which really dented her self-esteem. Although Fiona's confidence boosted as she got older, her nose was still something that bothered her, and she felt like her nose would always make her unhappy.
In March 2014, Fiona decided she was ready to make a change and booked in for a consultation with Nick Percival to get an expert's point of view on her nose. Fiona raised her concerns with Nick, who agreed that the removal of the nasal hump would in fact, make the nose look smaller. Fiona also believed that her nose stuck out from her face too much, and would ideally like it to look smoother and straighter from a side on view. Nick explained that the tip of her nose was somewhat larger in comparison to the rest of the nose, and that he could remove cartilage in order to make it smaller, and to fit the shape of the nose better. Nick explained to Fiona that there were two options of how she could have her nose after removing the nasal bump; curved or straight. In order to show what the results would look like for either shape, Nick took some computerised photographs to demonstrate what the final result will look like, as well as showing a before image.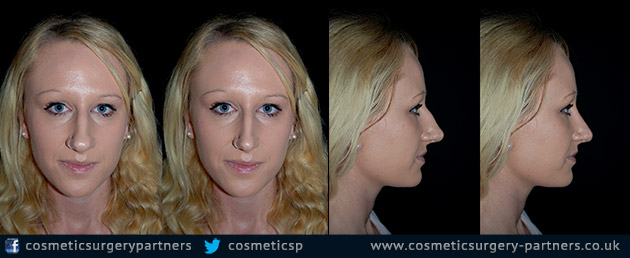 Making the right decision
As soon as Fiona saw the computerised before and after photos, she was certain that undergoing rhinoplasty was the right decision, and booked in for surgery with Nick a couple of months later. All of Fiona's friends and family were extremely supportive about her decision, as they knew how important the surgery was to her. As the surgery date drew closer, Fiona was extremely nervous about going under anaesthetic. "Going under is something I've always had a fear of, but a really lovely nurse called Lindsey at Cosmetic Surgery Partners spoke to me on the phone a week before my operation and really put me at ease".
Our nurse Lindsey Silker spoke with Fiona a week before her operation, with pre-operative instructions and explained to her what would happen on the day. On the day of the surgery, Fiona was taken straight to her room where she had the time to relax and prepare for surgery. "When I arrived at Cosmetic Surgery Partners I was extremely nervous, but also very excited at the same time! I knew this was the day I had been waiting for, for such a long time. Whilst I was in my room, an anaesthetist came to see me and explained to me what would happen, which I found extremely comforting. Straight after, Nick Percival came to see me and explained the whole procedure, and after-care. The whole process ran very quickly and smoothly, so I didn't even have the chance to get really nervous!"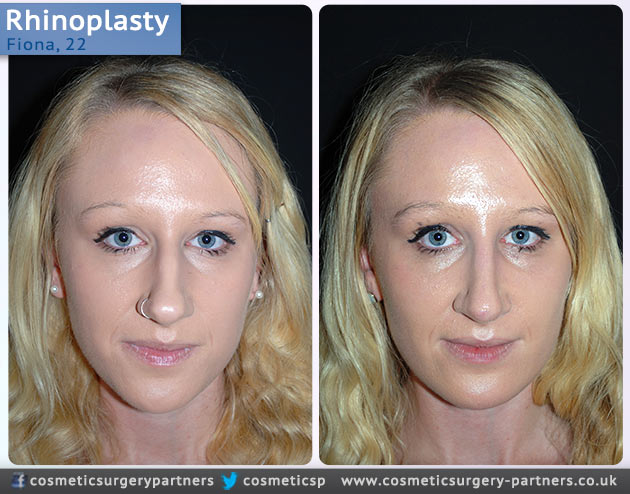 The Procedure
Fiona's rhinoplasty procedure lasted around two hours in total. "When I woke up, I was asking myself what I was worrying about so much! As soon as I came around from the anaesthetic I was experiencing quite a lot of pain in my nose, but there were brilliant nurses caring for me and giving me painkillers when I needed them. I was terrified of looking in the mirror for the first time as I knew my face would be very swollen and bruised. The splint I had on my nose took quite some time to get used to also!"
Fiona was instructed to take a week off from work and any activities in order to recover. 4 days after the operation, Fiona needed the stitches under the tip of the nose removed, and then the splint removed after 10 days. "I had been taking Arnica tablets as instructed to help with the bruising, which I found really helped. The first 3 days were the worse in terms of swelling and bruising, but to my surprise it went down really quickly. I was worrying that after my splint had been removed the swelling and bruising would be very apparent, but luckily wasn't too bad at all. I was counting down the days until the splint had been removed, so I could finally see my new nose! I was so shocked when I first looked in the mirror after having the splint removed as it just didn't look like me! After having the same nose for 22 years, it really took some time to adjust to. Although the bridge and tip were still very swollen, I could notice the change immediately. I started taking photographs each day of my nose so that I could look back and see it changing over the months as the swelling decreased."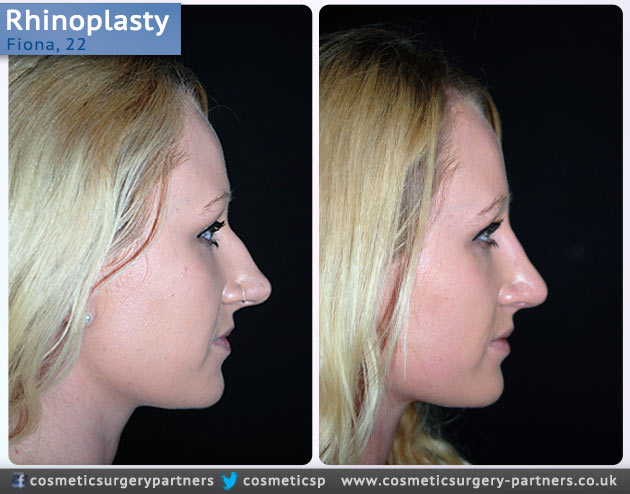 Recovery & Follow Up
Two months after Fiona's operation, she had a follow up consultation with Nick to see how well her nose was recovering, and to see if there were any issues. Fiona had some concern that the tip of her nose still felt very swollen. Nick agreed and explained to Fiona that the swelling on the tip of the nose can last quite some time. "I was extremely happy with the results, and I was pleased to hear that the recovery process was going well.  I was concerned about the swelling on the tip of the nose, but Nick reassured me that this can take quite a while to go down. I'll have another follow up with Nick in six months to see how it's going."
It has now been 4 months since Fiona's rhinoplasty procedure, and she feels better than ever! "It was honestly the best decision I've ever made; my confidence has boosted incredibly, and for once I feel really good about the way I look. I really believe cosmetic surgery is the way forward for people who are really unhappy with parts of their body. It can really make a difference to your life, and more importantly your happiness. Thank you to Nick Percival and the team at Cosmetic Surgery Partners for making this happen, you have all been really great!"