Lateysha Grace of MTV's hit TV show 'They Valleys' had breast augmentation and nipple reduction surgery performed by our expert UK surgeon Mr Miles Berry MS, FRCS (Plast) of Cosmetic Surgery Partners London - Lateysha is overjoyed with the results of the surgery and highly recommends Mr Miles Berry as a consultant plastic surgeon for anyone who is looking to have breast implants surgery performed in the London area.
Watch the video below of Lateysha giving her review of having breast augmentation and nipple reduction at Cosmetic Surgery Partners London Clinic.
Why have breast augmentation surgery?
Celebtrity star Lateysha is 21 years old and is famous for appearing on hit reality TV series 'The Valleys' aired on MTV following the lives of youngsters from the South Wales Valleys moving to Cardiff in pursuit of their dream careers. She was very insecure about her breasts in particular her nipples which she famously describes as her 'burger nips'. Through the help of Cosmetic Surgery Partner's surgeon Mr Miles Berry, Lateysha went through a series of breast surgery procedures in order to achieve her ideal breast form. Miles Berry performed a tailored breast augmentation (breast implant surgery) together with a nipple reduction resulting in improved confidence.
Lateysha Grace reality TV star from MTV's 'The Valley's' had her breast augmentation and nipple reduction surgery performed by Cosmetic Surgery Partners. In the above video she gives her review for breast augmentation at Cosmetic Surgery Partners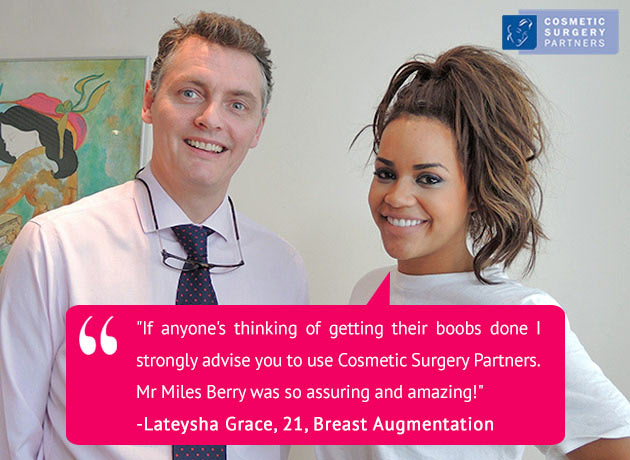 Breast Augmentation follow up consultation video
In the below video UK cosmetic surgeon Mr Miles Berry MS, FRCS (Plast) carrying out a 7 month post-op follow up consultation with Lateysha Grace. All our patients are seen as standard for a 6 week follow up consultation.
Lateysha gave up some lovely reviews on her Twitter feed as shown below.

Breast Augmentation with Areola Reduction before and after photos
The below photos were taken 6 weeks after surgery and show some residual redness and scarring which will subside as time goes by.
Interested in Breast Augmentation or Nipple Reduction?
Why not book a consultation with one of our specialist surgeons today? Or call to speak to one of our highly trained staff who will be able to help you with your enquiry 020 7486 6778