Teresa Q was 51 years old when she had facelift surgery and a lower blepharoplasty (eyelid surgery) with Cosmetic Surgery Partners' leading London-based specialist surgeon Mr Nick Percival. Teresa had been a patient with us for some time – she had breast augmentation surgery with Nick Percival in 2001 and had been visiting Nick for Botox injections to treat forehead lines and crow's feet for a few years.
As a PR consultant, Teresa works with a lot of young people often attending glamorous events. She'd always taken a lot of care of her appearance but felt that what she saw in the mirror didn't reflect how youthful she felt on the inside. Botox injections had certainly resolved some of her concerns, but her lower face began to concern her when she noticed that her jawline and jowl area weren't as firm as they used to be.
I strongly recommend Mr Nick Percival as a cosmetic surgeon. I'm so pleased with the outcome and delighted that I made the decision to go ahead.
Teresa, 52 – facelift and lower blepharoplasty
Talking to Cosmetic Surgery Partners in London
After being so pleased with the results of her breast augmentation and Botox injections, speaking to Nick Percival about facelift options seemed like a natural step. Teresa first began considering a facelift in her late forties and initially decided to undertake a series of non-surgical options. The fact that results only lasted a couple of years left her unsure and after a lot of discussion with Nick, she decided to have a consultation for a surgical facelift.
At Cosmetic Surgery Partners' London clinic, consultations are the cornerstone of helping our patients to come to the right decisions by being fully informed and understanding everything involved. Teresa said, "Nick took the time to discuss the procedure and what to expect recovery wise at length in my consultation." There are many facelift options and it's important that treatment is completely tailored to each individual.
After lots of discussion, Teresa decided to have a facelift combined with lower blepharoplasty (a lower eyelid lift) to help rejuvenate the hollow areas around her eyes for a more youthful appearance.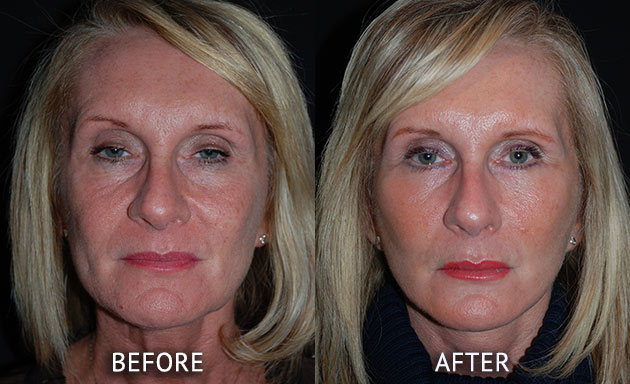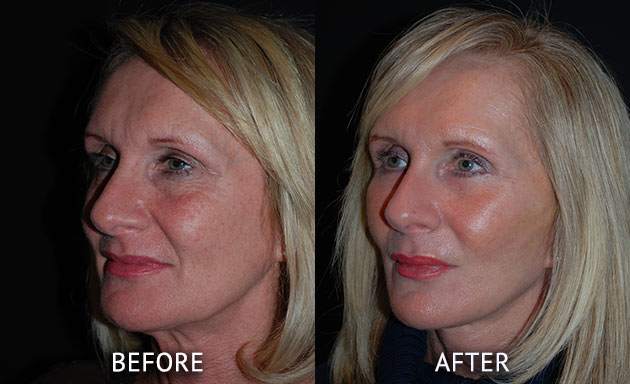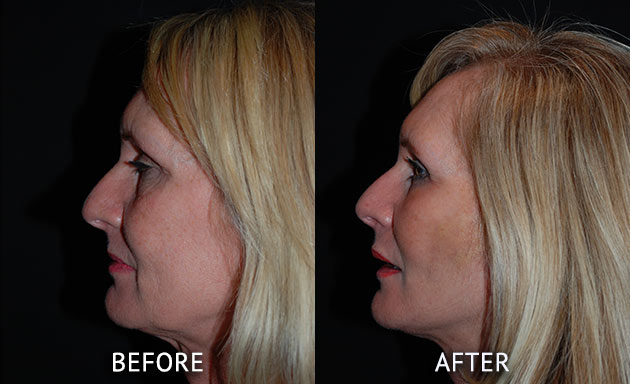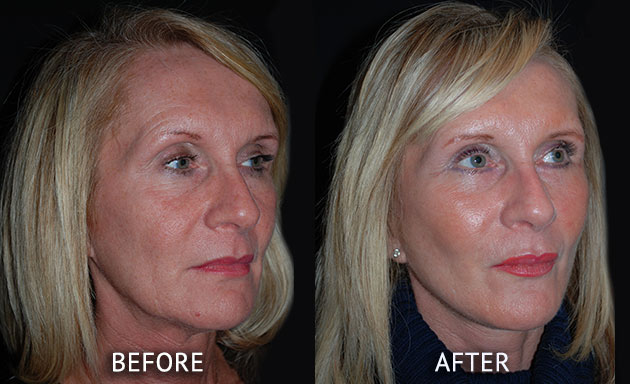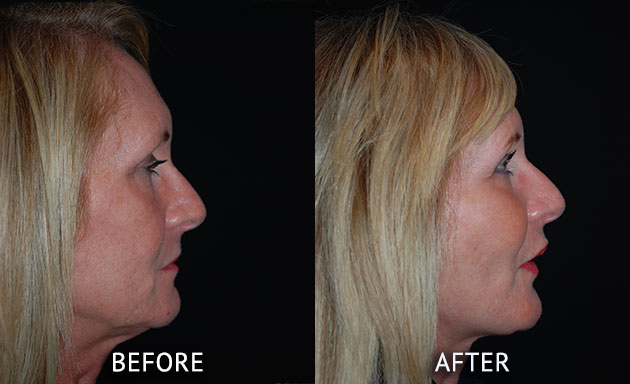 The facelift procedure
Teresa booked her facelift at our London-based hospital allowing around a week to recover before returning to work. Nick visited her before the surgery to go through the procedure again and mark Teresa's face with pen, as well as after surgery was completed and before discharge from hospital. Surgery took 5 hours and Teresa stayed overnight following the procedure.
Teresa was at the London hospital for only an hour or so before going to theatre. She came in early in the morning at around 7am and after seeing Nick was able to see the anaesthetist almost right away. Immediately after surgery, Teresa said, 'when the nurse got a hand mirror and showed me my face I was already really happy." She could see that the jowl area that had been one of her main concerns looked smoother.
Before her consultation, Teresa had some concerns about how the results would look – primarily around looking "too done" or "not like herself". But after the initial bruising and swelling had reduced she could gradually see the difference the procedure had made. "I didn't think it would look as natural as it does. I feel so much more confident and I'm really happy with the results."
Teresa stayed at home for the first week after the procedure and went back to work as soon as the stitches were out and the dressings removed. The results have refreshed Teresa's appearance without making her looking different. Most people comment that she looks good or looks well, but don't realise that she's had facelift surgery.
Cosmetic Surgeon: Mr Nick Percival
Procedure: Facelift and lower blepharoplasty
Operation duration: Overnight stay with general anaesthetic
Post-op consultation: At 6 weeks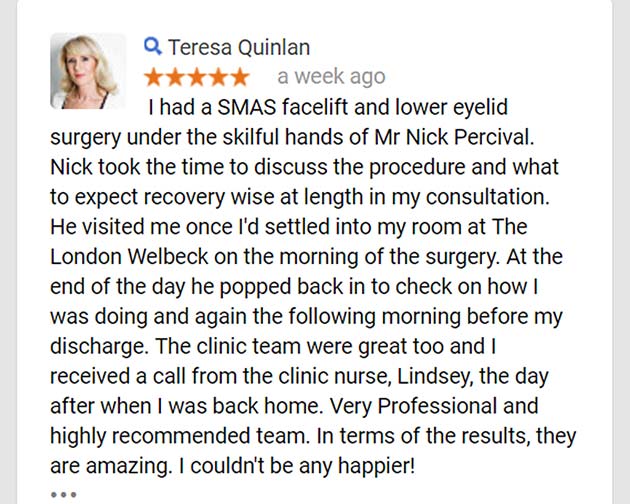 Focusing on natural-looking results
Teresa's facelift and lower blepharoplasty surgery with Nick Percival is testament to the natural-looking results that our cosmetic consultant surgeons deliver. Their expertise and experience in their specialist areas enables them to optimise and tailor the most progressive and proven techniques for each individual patient.
In facelift surgery, this involves lifting and tightening the SMAS – the Superficial Muscular Aponeurotic System which lies deep beneath the skin. This structure of subcutaneous fat, muscle and soft tissue weighs down on the skin as we age causing it to slacken. Expert lifting smooths folds and creases while rejuvenating the mid and lower face. Excess skin is only removed once the SMAS is fixed in place without the use of any tension. This ensures that the taut and stretched look of the old style wind-swept facelift is completely avoided.
If you're thinking about facelift surgery, the next step is to book a consultation with one of our expert surgeons. Simply call our friendly clinic team on 020 7486 6778 who can also help with any other questions you might have.