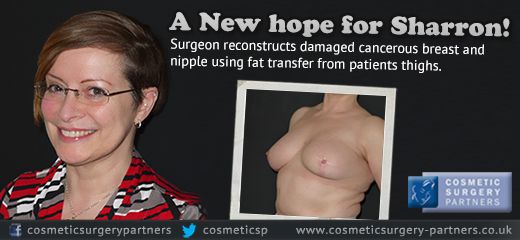 Sharron Luke, 50, was diagnosed with Stage 3 invasive cancer in November 2010 and later that month underwent surgery to remove the cancer. Unfortunately and unrelated, she developed an infection on the non-cancerous breast which meant that her breast literally exploded leave her with further scars and another empty breast.
In May 2013, she met with our surgeon Miles Berry and explained that she wanted to use her own body to fix her body and together they decided it would be possible to do a fat transfer from the top of her thighs into the breast. Miles went even further and built a new nipple for Sharron on the cancerous breast where the nipple/tissue had been removed and he did this using the other existing nipple and lip filler. She is now very happy to have a D cup set of breasts that look and feel great. Sharron is undergoing regular checks for the cancer but is hopeful of a positive future.
Sharron wants to highlight the work that Mr Berry does and show other cancer patients that there is hope out there for other women to gain their confidence and body back after such a traumatic illness.