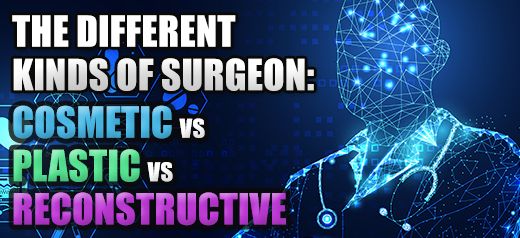 Considering a procedure for yourself can be daunting if this is your first introduction to the world of surgery. You know the results you'd like and the area you'd like treated, but which specialist or surgeon should you trust your treatments to? When seeking surgery to change the appearance of your face or body, there are three main types of surgery to be considered: cosmetic, plastic, and reconstructive. What are the differences between these three types of surgeries, and which specialist should you choose?
Cosmetic surgery
Cosmetic surgery concerns itself with electively enhancing your facial or bodily features by improving aesthetic appeal, symmetry, and proportion. It is not intended to restore form or function to an area of the body, but rather to cosmetically enhance areas of the body that are otherwise 'normal' and functioning well. Though there is clearly a strong link between self-esteem and mental health, cosmetic surgery is opted for by a patient wishing to see aesthetic changes in their appearance, not bodily health or function. Popular cosmetic surgery treatments include breast enhancement (whether lifting, reducing, or augmenting), rhinoplasty, and blepharoplasty.
Reconstructive surgery
The lines between reconstructive and plastic surgery may be blurred slightly, but they require very different considerations. Reconstructive surgery is performed on abnormal structure of the body caused by congenital defects, developmental abnormalities, and trauma. It is typically performed to improve function of the affected area but may also seek to improve the 'normal' appearance of the area. A good example of this merging of aesthetic approximations with reconstruction would be cleft lip reconstruction, where a reconstructive surgeon will repair the incomplete lip while working to also improve its appearance.
Plastic surgery
Plastic surgery involves the restoration of a 'normal' form and function to the affected area, therefore combining the efforts of cosmetic and reconstructive surgery. These surgeries commonly involve soft tissue injuries and traumas, which is why plastic surgery is commonly associated with reconstructive surgery. Plastic surgery seeks to address form, function, and aesthetics by reconstructing normality in the affected area, combining aspects of all three surgical disciplines. By correcting abnormalities and dysfunctional areas during procedures such as breast reconstruction, burn repair, congenital defect repair, and scar revision, plastic surgery restores the true 'you'.
How to choose your surgeon
Always research your surgeon and your surgery before embarking on a consultation. It's always best that you have some idea of what you'd like and what's involved before you seek surgical advice and the surgery itself. Choosing the right surgeon for you depends on their specialism – are you seeking to alter your physical appearance for cosmetic reasons, or repair a site of trauma or anatomical defect? If you know which surgical department best aligns with your needs, then begin your research here; read about the expert team at Cosmetic Surgery Partners London.
Accredited surgeons
Always seek a surgeon that is recognised and accredited with official bodies. For example, the British Association of Aesthetic Plastic Surgeons is a reputable body that only admits approved and carefully selected cosmetic and plastic surgeons to their register. When considering reconstructive surgery, always seek a member of the British Association of Plastic Reconstructive and Aesthetic Surgeons for the same reasons. Surgeons that have this kind of official recognition have shown they are not only competent, but some of the best and safest in their profession. The Royal College of Surgeons and the UK Association of Aesthetic and Plastic Surgeons are no different, upholding high standards in quality and safety for the best patient experience possible.
Cosmetic surgery 'tourism'
Cosmetic surgery abroad, or cosmetic surgery 'tourism', is sadly still undertaken by many members of the British public seeking cost-effective treatments. However, surgeons abroad that are offering these comparatively lower prices are not likely to be board certified or recognised by any reputable medical and surgical bodies, putting your health and safety at risk. Complications, 'botched' results, and health compromises are widely associated with surgical tourism. If complications arise, your surgeon is not readily available to you for a follow-up appointment and often aftercare support is lacklustre. You can't put a price on your continued health and safety, and surgery 'tourism' often pays far too little attention to either.
Why Cosmetic Surgery Partners London?
Choosing the right surgeon is important, which is why we at Cosmetic Surgery Partners London pride ourselves on our accredited team. Not only do we have surgeons affiliated with the governing bodies aforementioned, but we are also approved by the Care Quality Commission (CQC), a regulatory body charged by the government to ensure the Health and Social Care Act 2008 regulations are met and adhered to. Not only do we achieve superior surgical results for our patients, but we achieve them with the upmost attention to your safety.
Always seek an accredited surgeon that will put your safety first, like the accredited professionals on our team. Contact us today on 0207 486 6778 or enquire online to speak to a friendly member of staff and book your initial consultation today.