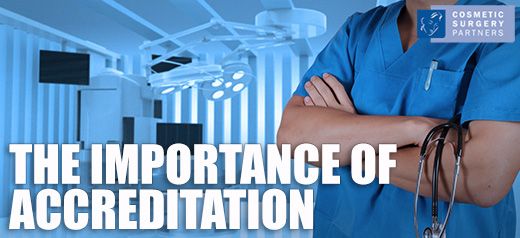 Deciding to have cosmetic surgery is a big and important decision that you have probably been considering for some time. Dissatisfaction with your appearance can sometimes lead to self-consciousness and can go even further than that, and undergoing cosmetic surgery can give a huge boost of confidence. Whether you are looking for breast surgery, facial surgery or even something smaller like Botox or laser skin treatment, it is crucial that you are full of knowledge and have some idea of what the treatment includes.
Once you have considered the risks and asked yourself these questions, your next step is probably choosing a clinic.

What is accreditation
Research into your cosmetic surgery is paramount, with one of the most important things to look for being accreditation. Essentially, accreditation is recognition from official governing bodies and institutions. If the clinic you choose is accredited, it often means that the particular clinic is reputable and recognised as a provider of high standards.
Organisations such as the British Association of Aesthetic Plastic Surgeons and the Royal College of Surgeons represent surgeons in the UK and are a voice for plastic surgery across the country. They are seen as key players in the advancement of education and safety when it comes to cosmetic surgery, pushing for higher standards and improved care for patients.
Choosing a clinic for your cosmetic surgery
When you decide on a clinic it is imperative that you look for this sort of accreditation as it will instil you with some level of confidence that your surgeons will be fully trained and highly skilled in what they do.
The process of having cosmetic surgery can be lengthy and should not be taken lightly, but of course if you have already considered it then you will already know this. A surgeon that is accredited will most probably have performed thousands of successful procedures to earn their reputation, meaning you will receive the best treatment possible. What's more being part of said organisations is not an easy feat and remaining on their register even more so, any level of misconduct can result in an immediate banning.
All the surgeons here at Cosmetic Surgery Partners have been fully trained at the Institute of Cosmetic Surgery and are on the GMC specialist register. We only offer first rate treatments that are carried out by our cosmetic surgeons that are audited on a monthly basis and have all been consultants in the NHS.
This is the level of expertise you should expect from your cosmetic surgery clinic. Get in touch today if you would like to talk to us about our available treatments and if they are right for you 0207 486 6778.