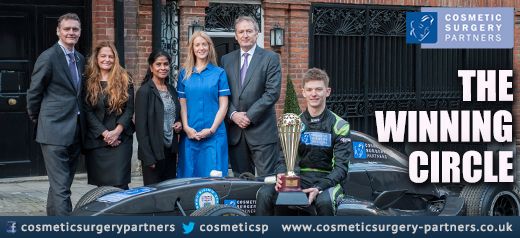 On a bright but cold February afternoon in the heart of Mayfair, a small crowd gathered as celebrity photographer Chris Bissell snapped the newly crowned and Cosmetic Surgery Partners sponsored F3 champion, Toby Sowery.
Eighteen year old Toby recently returned home triumphant from Chennai after winning the 2014 MRF Challenge Championship. Toby is now the youngest driver to have accomplished this feat after securing a podium position in both the third and final round. Closer than ever to achieving his dream of becoming an F1 driver, Cosmetic Surgery Partners are very proud to be sponsoring Toby, trilled with the success he has achieved.
The Award winning team at Cosmetic Surgery Partners
Surgeons Nick Percival and Miles Berry, Nurse Lindsey Silker, Julia Flack and Nimi Selvedran braved the chill and posed. With Miles getting to take the wheel, and Toby wearing a jumpsuit emblazoned with the Cosmetic Surgery Partners logo, both Toby and the surgeons are excelling in their fields, what you're looking at is the winning circle!
Twice voted by Tatler magazine for Top Cosmetic Surgeons and Best for Facelifts, the surgeons at Cosmetic Surgery Partners are also called upon regularly for comments in the national media and have fixed cases for the popular Channel 5 series Botched Up Bodies.
Miles Berry is also co-author of The Good Boob Bible. Cosmetic Surgery Partners is a leading London practice offering a full range of surgical and non-surgical procedures including body, breast and facial surgery; Botox, dermal fillers, Sculptra, chemical skin peels, laser skin treatment and skin resurfacing.