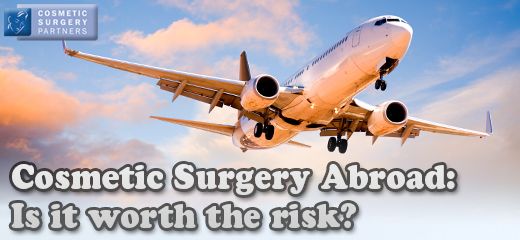 With a range of benefits combined with greater awareness, availability and changing perceptions in the media, it is not difficult to see why cosmetic surgery has become so popular in recent years. However, procedures in general are not cheap, and the price points can often put people off. For those looking to cut costs, going abroad for a cosmetic procedure may seem an attractive option, as fees can be considerably less in certain parts of the world. However, with ever more horror stories about cosmetic surgery holidays going wrong, it may be worth a timely reminder of the risks patients must consider.
Last month, health professionals around the world again warned people against "surgical tourism", after a British woman died while undergoing cosmetic surgery in Thailand. The 24-year-old was found dead at a clinic in Bangkok with a three-inch incision in her lower back. Police stated the surgeon performing the procedure did not appear licensed to be operating.
This is the main risk with undergoing cosmetic surgery abroad – you may not be able to know who will actually be performing the surgery. Furthermore, with regulations varying depending on what part of the world you are, it may be impossible to ascertain whether they are actually qualified to perform such procedures. At Cosmetic Surgery Partners, all of our surgeons are not only highly trained professionals, with years of experience as Plastic and Cosmetic surgeons, but are on the GMC's Specialist Register and accredited members of the UKs' professional bodies.
Another considerable risk of surgical tourism concerns aftercare. If you travel to a foreign country and your surgery goes well, you will return home satisfied. However, without proper aftercare any issues that develop cannot be properly resolved – it is not so easy to just hop back on a plane! Our surgeons are frequently contacted by people who have had botched up procedures while abroad and are looking for a professional to try and repair the damage.
Undergoing any form of cosmetic surgery is a big decision, and not one to be taken lightly. You will naturally want to speak to somebody about your expectations and receive impartial advice regarding your options – countries that offer surgical tourism cannot guarantee this. The chances are that if you travel to a different country and speak to a surgeon, they will instantly tell you that you are a perfect candidate for whatever procedure you are considering, without necessarily taking the time to explore all your options. Surgeons in the UK would never recommend a procedure that someone would be unsuitable for or would cause a serious health risk. You can rest assured that you will receive impartial advice, and a variety of different options, so you can more easily find the one most suitable to your specific requirements.
So, while travelling abroad for cosmetic surgery can seem like an attractive, money saving option, it should be balance against the potential risks involved.