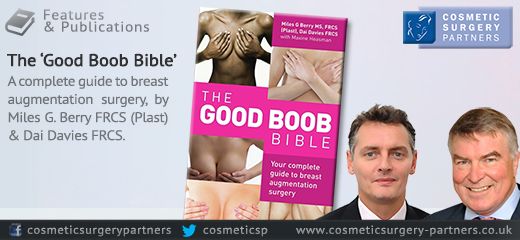 Last month we spoke about breast surgery, giving you our top tips for choosing the right surgeon for your new boobs. While there are a number of different types of breast surgery you can undergo, breast augmentation is by far the most popular, with over 11,000 of these procedures performed in the UK last year. With these figures continuing to rise, we thought we ought to shed some light on the topic and answer the commonly asked question – what is breast augmentation?
Breast augmentation, sometimes referred to as mammoplasty, breast enlargement surgery or a boob job, is a surgical procedure to increase the size and improve the shape or fullness of a woman's breasts. This will usually be achieved using implants inserted beneath the breast tissue or chest muscles.
At Cosmetic Surgery Partners breast augmentation surgery is performed under a general anaesthetic and can be performed as a day-case procedure. We use Nagor implants, which offer a lifetime guarantee against rupture for peace of mind. Following surgery, painkillers are provided to deal with any discomfort and patients will need to take things easy for the first few days, following the aftercare instructions provided by their surgeon.
Breast augmentation is popular with both the young and old, and most women are suitable candidates, providing their nipples are not too low on their breasts. In this scenario, a relatively new technique – known as dual-plane augmentation is usually recommended.
Breast augmentation, like any type of cosmetic surgery, is a very personal thing, and people will have a wide range of different reasons that have led them to consider this option. Some women may just feel their breasts are naturally small, and have always wanted larger or firmer ones. There is little one can do to increase the size of breasts naturally, so surgery remains the best option.
Pregnancy has lasting effects on a woman's body, especially the breasts. Augmentation surgery can help towards restoring your breast's natural size and shape after giving birth. This procedure can also be used following major weight loss, where the breasts are less firm or have begun to droop and sag.
Women who have undergone treatment for breast cancer may undergo breast reconstruction, with identical implants to a breast augmentation procedure, to return their breasts closer to their natural size and shape.
For many women, the reasons for breast augmentation surgery may seem relatively small to friends and family, but body issues unnoticeable to others can have a major effect on the self-esteem, body image and confidence of a woman. Cosmetic surgery can often give patients a new lease of life.
At Cosmetic Surgery Partners, our team have decades of experience in breast augmentation, having performed thousands of successful procedures. All of our surgeons are not only registered with the General Medical Council, but are on the Specialist Register. They are also members of a number of professional bodies, including the Royal College of Surgeons, British Association of Plastic Reconstructive & Aesthetic Surgeons, British Association of Aesthetic Plastic Surgeons and the UK Association of Aesthetic Plastic Surgeons.
Miles Berry, one of our surgeons, specialises in breast augmentation, and is highly respected in this field. He is credited with introducing the ABBA breast augmentation technique in the UK, and his work is recognised around the world. He has co-authored a number of books and scientific papers and has twice been awarded the BAPRAS Aesthetic Prize for his work in the filed.
If you wish to know more about breast augmentation and see if this procedure would be suitable for you, get in touch with us today and we would be happy to answer any questions you may have. We can even book you in for a no-obligation consultation to discuss your options in more detail.