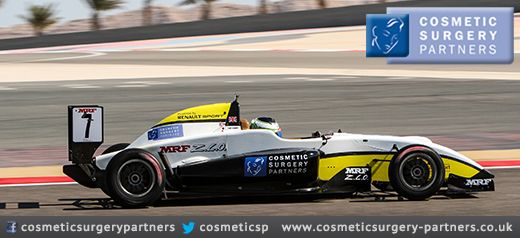 A leading firm of aesthetic surgeons Cosmetic Surgery Partners, are pleased to announce a sponsorship deal with the young talented F3 driver 18-year-old Toby Sowery from Cambridgeshire. Toby will be making his debut at the Bahrain International Circuit this week. The race is part of the MRF Challenge 2014 – ROUND 2, 13 – 15 November 2014.
Having fallen in love with karting at young age, Toby progressed to take an active interest in Formula 3 racing. At just 13, he had already won six club championships. In 2011 Toby made history by not only retaining his Easykart UK Junior crown, but also simultaneously racing and ultimately becoming the Super One Junior TKM Champion – a feat that has not been matched since. More recently, Toby has become the youngest ever champion of the prestigious F3 Cup, winning ten of fourteen races with an impressive ten fastest laps and ten pole positions, and an amazing podium rate of 100% for the entire Championship.
Amongst his peers in the MRF Challenge are the sons of Formula I World Champions James Hunt and Niki Lauda – Freddie Hunt and Mathias Lauda. Toby is at the starting line of an exciting future. He has already been recognized as a 'future star' by the likes of Alex Hawkridge, iZone Driver performance Chairman and the man who discovered and signed the late Ayrton Senna to F1.
A rising star in the field of motor sport, the team at Cosmetic Surgery Partners wish Toby the best of luck in Bahrain!
UPDATE: We have now received some photos from the said event and we must admit the logo does look pretty awesome on the side of an F3 car. At time of writing this update our driver Toby Sowery was still 15 points in front on the leader board. Here's an article from The Gulf Daily News about Toby (thanks for the mention)
Below are some photos from the Bahrain International race circuit and some rather dapper photos of the man himself. Hold on to the lead!