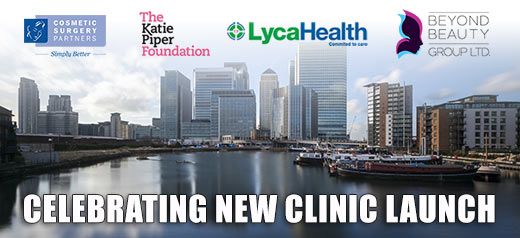 Please note we are currently not consulting at Canary Wharf – please view our current London consulting locations
Cosmetic Surgery Partners are pleased to announce their second London clinic Location! Our expert cosmetic surgeons are now seeing patients at the new LycaHealth Clinic located in Canary Wharf for cosmetic surgery consultations as well as a wide range of non-surgical procedures.  To celebrate the opening of our new clinic in the City, we have teamed up with the Katie Piper Foundation and are donating the fees collected for the first 50 new patient bookings for cosmetic surgery consultations.  
The LycaHealth Clinic situated in the heart of East London's financial district was opened by Boris Johnson last November. The state–of–the–art, purpose built clinic offers multi-speciality consultations, diagnostics and treatment services for the local residents and professional population of Canary Wharf. Patients visiting the Clinic will have access to handpicked specialists, expert surgeons and the latest equipment such as MR, CR, ultra sound scanner and 3D simulation technology. The brainchild of founders Dr Manpreet Gulati and Sean Khan, LycaHealth aims to bring a high quality consumer experience to the healthcare sector, with a roll-out of clinics being planned for the UK.  
Cosmetic Surgeons in Canary Wharf
Selected as the exclusive aesthetic providers at the LycaHealth Clinic, Cosmetic Surgery Partners' award winning surgeons Mr Miles Berry (FRCS) and Mr Nick Percival (FRCS) will be on hand and offering a comprehensive range of non-invasive aesthetic treatments including wrinkle reduction and dermal fillers at the facility which is easily accessible to those who live and work in the City, Docklands and East London. Additionally, the clinic is conveniently located for those in the area requiring pre and post–operative cosmetic surgery consultations. 
Nurse Lindsey Silker, our skin care specialist will also be holding sessions at the Canary Wharf Clinic, providing skin care consultations using VISIA technology to create detailed skin analysis.  
The new Clinic is an extension of the exceptional service, expert advice and excellent treatment currently provided by the Cosmetic Surgery Partners' team establishedat the London Welbeck Hospital, Marylebone, London W1.  
Donating to a worthy cause
To mark the opening, and to celebrate the opening of the doors at Canary Wharf, Cosmetic Surgery Partners have nominated to raise funds and awareness for the Katie Piper Foundation, a charity set up by model and TV presenter Katie Piper in 2009 after she sustained a brutal acid attack in March 2008. Since its launch the charity has supported hundreds of people with burn injuries and traumatic scarring and helped them throughout their recovery. The provision of both psychological and cosmetic support to burn survivors makes it the perfect charity for Cosmetic Surgery partners to advocate.  
We are pledging to donate the full £150 cosmetic surgery consultation fee for the first 50 new patients to visit our new clinic. Please help us to support the Katie Piper Foundation. 
To make a booking with our experts please visit our contact form page or call our friendly and knowledgeable staff on 020 7486 6778 today.