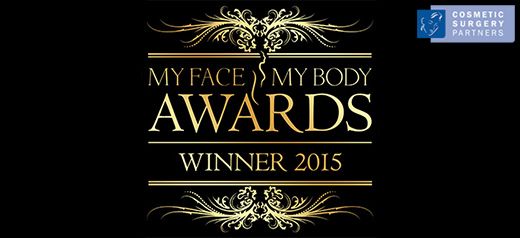 We are thrilled to announce that Cosmetic Surgery Partners were announced winner's of Best Aesthetic Clinic in South England and Wales at the My Face MY Body Award Ceremony in London last weekend.
The prestigious MY Face MY Body award is the only consumer awards dedicated to the cosmetic, aesthetic and dental industry. Recognising and rewarding brands for their product innovation and popularity, MY Face MY Body celebrates success within a fast growing, exciting industry. Creating an online platform where consumers can look at all finalists entry pages before casting their votes, MY Face MY Body aims to better educate a wider audience about the aesthetic industry. It is the only aesthetic beauty awards which give consumers a voice.
Up against leading cosmetic clinics such as Aurora, European Dermatology London and Medikas, Cosmetic Surgery Partners are delighted to have won such a coveted award and would like to thank all patients and clients for their support. Voted on by consumers, with a team of international judges also involved in drawing up the final shortlist, the process for MY Face MY Body is transparent and fair, making it all the more meaningful to have won.
Based at one of London's most luxurious private hospitals, Cosmetic Surgery Partners is a cosmetic surgery practise founded by leading UK surgeons. Combining the very latest techniques available with years of NHS experience, they offer the very best surgical and aesthetic treatments.
The award winning team, headed up by cosmetic surgeons Nick Percival and Miles Berry, have carefully developed and introduced new procedures to the field of cosmetic surgery and have recently introduced a popular buddy system – where new patients can speak to former patients who have undergone the same procedure. The surgeons have spoken at some of the world's largest cosmetic surgery conferences, written medical research papers and published several books.
Speaking of the award Miles Berry says 'I am delighted to be part of the winning team. We are all programmed by the original ethos of the company set by Dai Davies and Nick Percival which builds from a core of quality.'
Cosmetic Surgery Partners follows a philosophy of doing what is really required to achieve the best results. If they believe a procedure is wrong, they will advise the patient so. Hard sells do not happen. Cosmetic Surgery Partners never forget their ethos: created by surgeons, for patients – and the very best results.
Photos of Cosmetic Surgery Partners at the My Face My Body Awards 2015