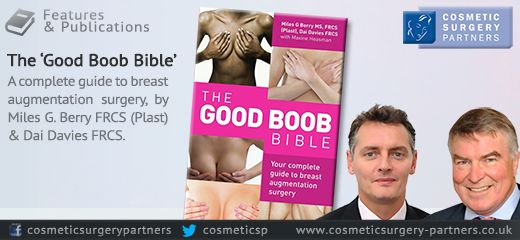 Our UK Surgeons Dai Davies & Miles Berry write a 'boob bible' set to become the definitive guide to Breast Surgery
Every woman wants to feel confident with their body and being unhappy or self-conscious about the size or shape of your breasts can be a major cause of low self-esteem. It's no surprise then that breast augmentation continues to be the most common cosmetic surgery operation on both sides of the Atlantic but often women are signing on the dotted line without a full understanding of what their surgery will involve. In response, leading UK cosmetic surgeons Mr. Miles Berry MS, FRCS, and Dai Davies FRCS have written The Good Boob Bible; a guide to the best possible breast surgery.
The Good Boob Bible provides is an ideal holiday read for any woman who feels strongly about changing the size or shape of her breasts with a wealth of information combined with real life stories and personal experiences, to bring together all of the relevant aspects of breast augmentation in an informative, readable, and current source of reference for prospective patients. Case studies including the story of Emma Corrio who hated her "spaniels' ears" and "Tit-less Tash" Natasha Moore, who have both found confidence again after having breast augmentations with Mr Miles Berry.
Within the guide, the authors look at the advances and improvements in both the implants available and techniques possible make the procedure more reliable. As expectations continue to rise, it is vital that each individual has a realistic idea of the outcome. There is plenty of discussion on the internet, from the media, and among friends, but the majority of women have no medical training to put the surgical issues into context. Informed decision making gives the best possible chance of optimal result and patient satisfaction, and requires clear communication of the risks and benefits, such as the kind found in this guide. Written with the expertise and knowledge of two leading cosmetic surgeons with contributions from Maxine Heasman, the founder of the Breast Implant Information Society (BISS), the Good Boob Bible is the most reliable and up to date guide available.
Dai Davies is at the forefront of modern cosmetic surgery. Not only does he hold a wealth of experience having been in the industry for several decades, but he also trains surgeons in his speciality areas of reconstructive and cosmetic surgery. He is a member of the International Society of Aesthetic Plastic Surgeons and acts as an advisor to the Medical Protection Society.
Mr. Miles Berry is the leading consultant plastic surgeon for Simply Better Breasts. He specialises in cosmetic breast surgery and has worked in the industry for over a decade. In the last year he has published three papers on Breast Augmentation in JPRAS (Journal of Plastic, Reconstructive & Aesthetic Surgery) and is the co-author of an important text book on Oncoplastic Breast Surgery produced by the Curie Hospital in Paris.