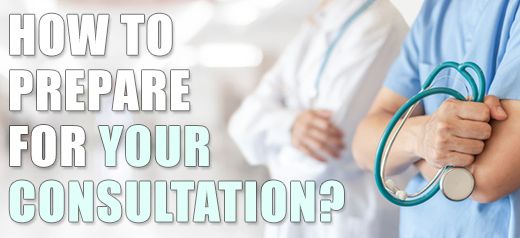 Your consultation is your best opportunity to discover more about your desired procedure and the surgeon who will be performing it. Naturally, you'd like to get the most out of your consultation so that you can make an informed decision on beginning your patient journey. Here at the Cosmetic Surgery Partners London, we take our patient care very seriously and only provide the highest quality in consultation and surgery. We'd like to share some advice with you on how to prepare for your consultation so that you feel prepared, informed, and comfortable in meeting with our team.
Do your own research – Researching the procedure you're considering, your surgeon, and your general skin's needs will provide you with a baseline of knowledge to discuss at your consultation. This way you can know exactly what your procedure will entail, recovery time, and how it works so that you know what to expect before, during, and after your treatment. Researching your surgeon is also very important to ensuring that you receive the high-quality care and results you deserve.
Choose your surgeon – Before your consultation, search for a surgeon that you feel will achieve the best, safest, and most reliable results for you. There are certain indicators of a great surgeon, for example are they a member of reputable associations such as the British Association of Plastic Surgeons (BAAPS) or the British Association of Aesthetic Plastic Surgeons (BARPRAS)? Our team of cosmetic surgeons in London are members of prestigious bodies such as these, which are reliable indicators of expertise.
Consider questions you'd like to ask – Your consultation is the perfect opportunity for to discover the details of the procedure you are considering. Everything discussed will be open, honest, yet confidential, so consider any questions you'd like to ask of your surgeon. Aftercare, recovery times, and personal considerations are recommended discussion points, and no question is too big or small. Asking questions is paramount to you feeling comfortable in your surgeon's care, so think about the answers you'd like to find out.
Allow yourself some thinking time – Considering cosmetic surgery or plastic surgery is a big step, so take some time to acquaint yourself with the procedure and reach your own decision. Ultimately, undergoing a procedure should be done without pressure from those around you or your chosen surgeon. Do your research, find out about procedure, find a surgeon you'd like to seek the advice of, and then take some thinking time to ensure you are settled in your decision. Our team will not rush or pressure you into a surgery that you don't need or express interest in, so you can comfortably reach your own decision.
Our team of surgeons in London are recognised by the British Association of Plastic Surgeons (BAAPS), British Association of Aesthetic Plastic Surgeons (BAPRAS), and are approved by the Care Quality Commission (CQC). Meet our team of skilled professionals and book your consultation today.