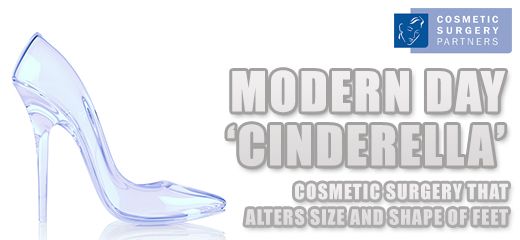 New shocking trend in cosmetic surgery dubbed the 'Cinderella Surgery' will see that every high heel shoe fits
The aesthetic industry does have the habit of throwing up some unusual practices, but this has to be one of the more bizarre. It would seem that there are some out there who think it not unreasonable to have their toes chopped in what is claimed as a 'rapidly-growing trend'. Apparently fueled by 'Sex and the City killer heels' (is that still going by the way, I last recall it in the late 90s/early noughties?), some would rather change their feet than their shoes.
The piece does at least carry one poor outcome to balance the 2 good ones reported to serve as reminder that no intervention is without potential risk. One interesting fact deep in the middle of the article is that foot bone surgery does not even require an Orthopaedic Surgeon – those poor folk that slave away for 5 years at medical school then another 10 for specialist surgical training. Instead, a 3 year BSc followed by a 1 year course sets up podiatrists with a licence to chop.
With the human body being a fascinating, yet complex and variable biological mechanism, perfect outcomes are not guaranteed in all so prospective patients should weigh their own risks and benefits. Proper qualifications are easily verified for all surgeons, Orthopaedic, Plastic et al, on the UK's General Medical Council's Specialist Register.
Article contributed to by Mr Miles Berry MS, FRCS (Plast)
For more information about this somewhat dangerous new cosmetic surgery procedure we recommend you read this article featured in the Daily Telegraph, click here for the article which is also featured on our Pinterest mood board about extreme cosmetic surgery. Click here to read about all kinds of extrememe cosmetic surgery trends – if you dare!
Below the ladies from hit TV show 'Sex and the City' who are said to have fueled the desire for women to get Cinderella surgery in order for them to wear similar styled 'killer high heels'