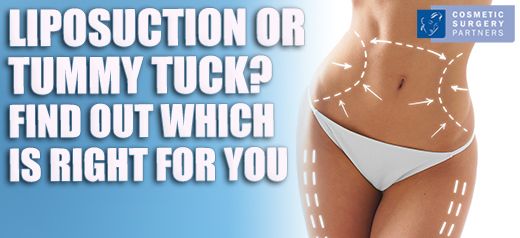 The dream of having a smooth, flat stomach is an incredibly common one, with the abdomen being one of the key areas people seek to improve. There are a whole host of different situations that can lead to people seeking out a flatter stomach, and people will try a variety of different methods to achieve their dream body.
For those who decide to go down the cosmetic surgery route, there are two key cosmetic procedures which are commonly associated with weight loss surgery: abdominoplasty (tummy tuck) and liposuction. There is a lot of confusion surrounding these two procedures, and we are often asked questions by patients regarding which option will help them to achieve the best results. To help provide some clarity, we've put together some key facts you need to know about both procedures.
What is a tummy tuck?
Tummy tuck surgery, also known as an abdominoplasty, is a popular option for people looking to achieve a smooth, flat stomach. In particular it is the only procedure which can fix loose sagging skin around the tummy area, which usually happens as a result of extreme weight loss. A standard tummy tuck procedure involves making a long cut to the abdomen, above your pubic area. The stretched or torn muscles are then pulled together and stitched in place, with excess skin and fat sometimes also being removed. Our surgeons are experts in the tummy tuck procedure and due to their expertise are able to leave you with minimal, often hard to perceive scarring.
An alternative procedure with floating umbilicus is also available, which involves removing the belly button from the abdominal wall, which is then repositioned. A third option is also available, referred to as a mini tummy tuck (or mini abdominoplasty). For this procedure, the belly button remains in place, while the surgeon will remove excess fat and skin from below the belly button.
What is liposuction?
Liposuction surgery is a procedure that removes fat tissue from various areas of the body, including the abdomen. There are a number of different liposuction procedures available to patients looking to sculpt and tone certain areas of their body, with VASER liposuction being one of the most popular. VASER (Vibration Amplification of Sound Energy at Resonance) uses advanced ultrasound technology to break down fat tissue with the minimum amount of invasiveness, leading to a quicker recovery with less bruising. Scars are virtually undetectable, so there are no signs to give the game away!
Which option is best for me?
Both procedures offer their own benefits, but are different in key ways. For those just looking to shift some stubborn weight and tone up, liposuction can help achieve this. Tummy tucks are more popular with those who may have already undergone significant weight loss and wish to tighten up their abdomen.
One thing that is important to note is that neither of these procedures should be viewed as an alternative to traditional weight loss. Patients will always be recommended to lose weight in the traditional way, through diet and exercise, with these procedures being used as a final "touch up", helping to put the finishing touches to your hard work. Sometimes, patients will undergo a combination of both procedures to achieve the best possible results. It is also worth noting that in the case of loose sagging over-stretched skin around the tummy region there is no other alternative to fixing the problem apart from cosmetic surgery.
If you're interested in undergoing abdominoplasty or liposuction, get in touch with our expert team today to see how we can help. If you prefer you can call in to ask our expert staff for more advice as to which operation you're better suited for.