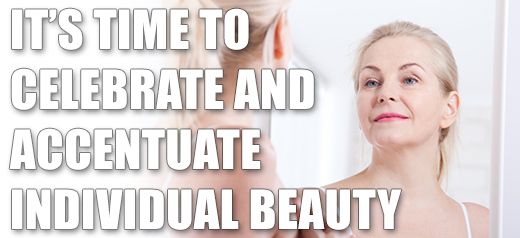 In a world obsessed with flawless images of air-brushed beauty, perfectly filtered selfies and celebrity culture, it's understandable that so many people criticise what they see in the mirror. At the same time, there appears to be a growing trend that's moving away from unattainable perfection to embrace the 'flaws' and blemishes that make us human.
It's a refreshing sign that indicates perceptions and attitudes are set to change. The British Association of Aesthetic Plastic Surgeons (BAAPS) has anecdotal evidence from its members that more patients are having treatments which enhance what they have rather than attaining to look like somebody else. Over-filled lips and large surgically-enhanced breasts are taking a back seat while non-invasive treatments, smaller implants and more natural looks have gained in popularity.
Advances in surgical techniques, more effective non-surgical treatment options and less stigma around having cosmetic surgery have ensured that cosmetic surgery continues to appeal to a broader range of people. Millennials through to baby boomers are looking for more subtle ways to accentuate and enhance the way they look.
Cosmetic Surgery Partners in London leads the subtle enhancement movement
From our London-based clinic, Consultant Plastic & Aesthetic Surgeons, Miles Berry, Nick Percival and Dai Davies are committed to producing natural-looking results that are hard to detect. We believe that this is the future of cosmetic surgery and aim to create a culture where people can turn to the industry to help them feel good about the way they look in realistic and appropriate ways.
Non-invasive treatments can provide subtle, more natural-looking results and have boomed in type, availability and popularity. Relatively affordable with little recovery time, treatments such as mild chemical peels are meeting the need for an easy approach to cosmetic treatments.
Treatments that provide a middle-ground solution between surgery and skincare such as anti-wrinkle injections and dermal fillers remain popular. When used by a fully-trained medical professional, these treatments can enhance the entire face enabling a person to look rested and refreshed. Anti-wrinkle injections can even prevent lines from forming and deepening. However, over-treatment that leads to a lack of facial expression or tell-tale puffiness is to be avoided. Surgical procedures are also following suit with the desired aim being natural-looking results and a 'less is more' approach.
Cosmetic surgery and self-esteem
There has been considerable research by scientists and health professionals into the impact of having cosmetic surgery on mental wellbeing. Many patients who have had cosmetic surgery report feeling better about themselves and have increased confidence levels. However, cosmetic surgery that aims to fundamentally change the way a person looks is generally considered unhealthy. Feeling compelled to such treatments and surgery could even be a sign of Body Dysmorphic Disorder (BDD) – a recognised mental health condition that affects around 2% of the UK's population.
At Cosmetic Surgery Partners' London clinic, we have the expertise and experience to ensure the most natural looking of results. Our specialist London-based clinic is home to a team of leading consultant cosmetic surgeons and professionals. We provide advanced procedures that are tailored to each individual patient's needs, facial characteristics and body proportions.
In-depth, one-to-one consultations with our consultant cosmetic surgeons are the cornerstone of creating a refreshed, more youthful look. A consultation is our opportunity to assess your area of concern, skin, any health conditions, aims and expectations. We even provide a free skin care consultation using VISIA state-of-the-art analysis technology. This enables us to give personalised advice on the facial skin areas to focus on to help perfect your skin.
A consultation at Cosmetic Surgery Partners' London Clinic also provides the chance to talk through all treatment options in detail as we believe that making an educated and informed decision means you're far more likely to be satisfied with the outcome. We also have a pre-surgery cooling-off period to support patients changing their minds before a procedure.
Treatments for natural-looking results
Understated procedures that tweak your appearance can make a significant difference to the way you look and feel. Our fully-accredited consultant cosmetic surgeons provide advanced procedures including:
Eyelid surgery (blepharoplasty) to subtly reduce eye bags and creases or folds around the upper or lower eyelids. This relatively simple surgical procedure can rejuvenate the eye area for a brighter, fresher look.
Fat transfer takes fat from one area of your body and transfers it somewhere else to restore lost volume and a natural, youthful shape and feel.
Sculptra is a volume replacement treatment that rejuvenates the face without surgery. It's a bio-stimulator that promotes the growth of naturally-occurring collagen making it different to dermal fillers (that plump with a filler substance) or anti-wrinkle injections which paralyse muscles.
For more information or to book a consultation please call our friendly clinic staff on 020 7486 6778. We'll be happy to answer any questions.
*Source: Body Dysmorphic Disorder Foundation