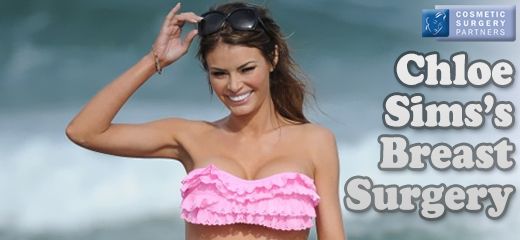 When you think of ITV's TOWIE reality star Chloe Sims, cosmetic surgery comes into mind. The Only Way is Essex star has been renowned for having several cosmetic procedures, including Botox on her forehead, filler in her lips, teeth surgery, and two boob jobs!
Before her breast augmentation, Chloe was extremely dissatisfied with the way she looked. Battling with bulimia at the time and losing a lot of weight, Chloe thought that by having a boob job she'd feel better about her body image. She booked in her surgery at a Belgium clinic and went from an empty B-cup to DD bra size. However, she wasn't satisfied with the results due to having the implants behind the muscle, referred to as a sub muscular breast implant placement. The other issue she had with the breast surgery performed by the Belgian surgeon is that they didn't look natural enough.
At the age of 29 Chloe Sims decided to go under the knife yet again, another breast operation to increase her bust even more to a size 34EE! She aspired to look like glamour model Katie Price, but her petite frame made it impossible to do so.
Chloe Sims visited UK surgeon Mr Miles Berry of Cosmetic Surgery Partners for a consultation. Doing some form of research into the breast augmentation procedure she told him that she wanted her breast implants to be in front of the muscle (it makes the breasts look bigger). Mr Miles Berry refused as Chloe's skin was too thin at the front of the breasts and it wouldn't be recommended. Even though Chloe argued against this, Miles put his foot down and said it couldn't and more importantly shouldn't be done, as the implants would be visible through the skin. There are many cosmetic surgeons out there who would be more than happy to take the money and run…In the end however, Chloe Sims was extremely grateful for Miles's honesty and sticking by his cosmetic surgery expertise, instead of just going along with Chloe's needs in order for publicity. She was and is extremely happy with the results, and was able to increase her breast size up to a 34E.
Chloe Sims is so happy with the results of the breast surgery with Cosmetic Surgery Partners that she approached Miles on another occasion to enquire about buttock implants or also known as 'gluteal implant surgery'. This video featured on our Youtube channel shows Cosmetic Surgery Partners surgeon Mr Miles Berry appearing on the TV show The Only Way is Essex giving Chloe Sims a consultation of this highly sought after cosmetic surgery procedure.
Chloe Sims is famous for being a glamour model and moreover starring as a reality celebrity star on hit TV show The Only Way is Essex (also known as "TOWIE").
Mr Miles Berry MS, FRCS (Plast) of Cosmetic Surgery Partners, London, UK is a practicing consultant cosmetic surgeon with over 18 years of experience at the time of writing this article. He is also known for publishing the definitive guide to breast surgery; "The Good Boob Bible", a must read for anyone who is considering Breast Augmentation surgery.