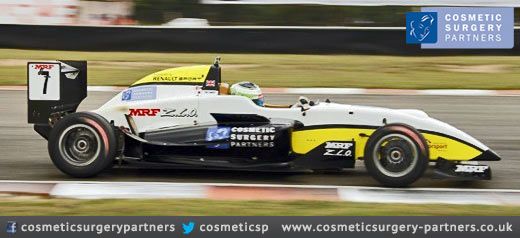 Cosmetic Surgery Partners' sponsored F3 driver Toby Sowery wins the 2014 MRF Challenge Championship!

We are very proud to announce that after winning the 2014 title of the MRF Challenge Championship, Cosmetic Surgery Partners sponsored driver, 18 year old Toby Sowery, is now just one step away from achieving this dream and potentially becoming an F1 driver! He bagged the championship title at the MMRT racetrack in Irungattukottai, Chennai, finishing with 221 points. Toby is now the youngest driver to have accomplished this feat after securing a podium position in both the third and final round of the championship.
Winning both races on Saturday 24th January and gaining the fastest lap, Toby already had the Championship trophy in the palm of his hands. During race 1 Toby did not disappoint. After a great start leading into the first corner, Sowery went on to win the race.
Despite starting 6th in race 2 due to the reverse grid system, Toby quickly rose through the field and was back up front by lap 4, managing to hold this position all the way coming in 1st. When asked about his triumphant weekend, Toby said, 'It seemed to take ages to work out whether I had actually won the Championship after race 2 on Saturday, but when it was confirmed after the podium it was a double celebration."
In spite of already securing the Championship title, Toby made a great start on Sunday in race 3. Starting at third place in the grid slot, Toby raced ahead finishing behind his team mate Ryan Cullen, who bought in the chequered flag. Commenting on the race Toby said, "Ryan and I pulled away from the pack after lap 1. Although I thought about looking for another win, I wanted to help my team mate secure 2nd in the Championship so I decided to settle for P2."
In the final race, starting in 5th position on the reverse grid system, Toby, on new tyres, was boxed in by turn 1. Although he made a good start, this caused a drop down to 7th position. Gaining two positions from here, Toby finished in 5th place. Collecting the Championship trophy, a delighted Toby said, "I came here knowing I was champion so there was no need to be too ambitious. The race this morning went according to plan, and with everyone battling for position I thought, okay let's maintain the 100% no damage record and bring the car home in one piece."
Cosmetic Surgery Partners are proud sponsors of Toby Sowery.