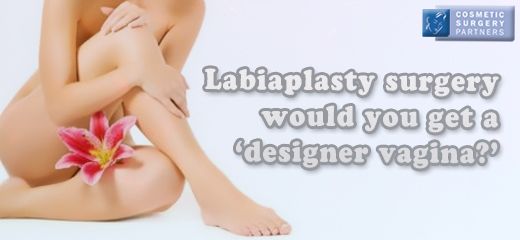 As labiaplasty becomes one of the most sought after procedures in the UK, the Sunday People ask Miles Berry for his expert opinion on the surgery.
Labiaplasty surgery on the rise – would you get a designer vagina?
As labiaplasty becomes one of the most sought-after procedures in the UK, we ask our expert UK surgeon Mr Miles Berry MS, FRCS (Plast) for his opinion.
Miles says; "The average age of my clients is 45 – successful, well-adjusted women who are married and have a good sex life. But I have turned women away and refused to do it – for example, if they don't need it or have unrealistic expectation or if they're being pressurised by their boyfriend or husband. I've had men in consultation with their partners, smirking and saying things like, 'can you make it a bit tighter too?' I just say I can't help them."
At cosmetic surgery partners labiaplasty surgery is an increasingly popular request and Miles sees patients of all ages. Some have been experiencing problems after childbirth whilst others have been aware of differences since puberty, but all appreciate the restoration of normal vaginal anatomy, improved symmetry and concealed scars.
Whatclinic.com recently reported a staggering 109 per cent rise in labiaplasty enquiries over the past 12 months…
Miles Berry says "Demand has been steadily rising over the past few years, It's a relatively simple operating with a low risk of side-effects, and the feedback we get is overwhelmingly positive, more so than any other procedure. The woman always say, 'I only wish I'd done it sooner."
Originally, labia reduction was achieved via simple amputation, but more refined techniques avoid the visible, often stiff, scars that frequently eliminated the natural contour and colour. Excessive removal seems to occur more often with amputation.
The most modern technique involves a flap because it conceals scars and preserves the natural skin edge. It does, however, require more technical skill and time.
Anyone who is considering labiaplasty surgery needs to think very carefully, and realise it will not be the solution to all their problems. Although it is a simple operation it carries the potential for complications, but these are rare with modern techniques. You must ensure you are happy with these aspects during consultation with your surgeon.
To find out more about the labiaplasty procedure or how you can book a consultation with Miles Berry or any of our other expert surgeons at cosmetic surgery partners click here or the link below.
Above the article in the Sunday People which featured expert Labia surgeon Mr Miles Berry of cosmetic surgery partners UK.