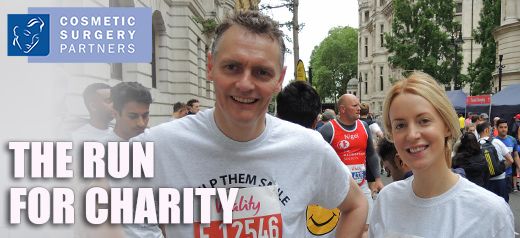 On the 10th of July, leading cosmetic surgeon Mr Miles Berry and skin specialist nurse Lindsey Silker participated in the British 10k to raise money for the Help Smile Trust charity.
Help Smile Trust is a charity committed to providing reconstructive services and rehabilitation to children in underdeveloped countries, aiming to help children smile. 250,000 babies are born with cleft lip and palate deformities worldwide. Unfortunately 230,000 of these babies are born in underdeveloped countries with minimum resources. Help Smile Trust specialise in providing reconstructive cosmetic surgery to children born with cleft lip palettes.
Working in cosmetic and reconstructive surgery, this is a cause close to Miles and Lindsey's hearts. They are raising money specifically for Mercy Ship, Madagascar. The Mercy Ship has five operating theatres where they will carry out procedures including cataract removal/lens implants, tumour removal, cleft lip, palate reconstruction, orthopaedics and fistula repair. There are also training courses provided on the ship for Malagasy medical professionals. The courses cover basic surgical skills, a safe obstetric anaesthesia course and ward nurse and surgeon mentoring. Help Smile Trust aim to raise £10,000 to go towards the Mercy Ship, Madagascar.
A vast majority of the people taking part in the British 10k were running for charities, with several running in costume. Those dressed up included a Wonder Woman, Big Ben and even a group of men dressed in drag as the Spice Girls! Amongst the Charities was The Katie Piper Foundation, with whom Cosmetic Surgery Partners have raised money for before. See more information on this blog post.
It was both Miles and Lindsey's first time participating in an event anything like the British 10k so while happy to be raising money for Help Smile Trust they were also nervous! Having said that, their nerves were unnecessary as they both finished in good time with Miles coming in at 1hr10 and Lindsey following shortly after.
With a target of £1000, Miles and Lindsey have already raised an impressive £786. If you would like to support them in raising money for Help Smile Trust, see their funding page.
The team running for the Help Smile Trust looking strong prior to joining the starting line.
Getting ready to join the starting line at the British 10k.
Miles and Lindsey looking fit, healthy and up for the challenge.
Miles keeping up good pace at around the 8km mark
Find out more about about the Vitality run series by visiting the banner below. If you would like more information about the charity Miles and Lindsey ran for please visit the official Help Smiles Trust website.