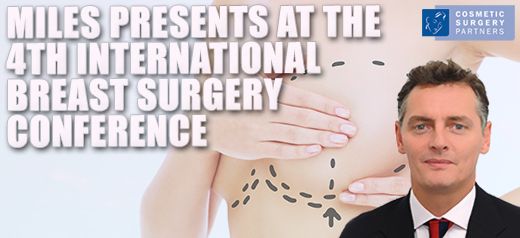 UK specialist breast surgeon Mr Miles Berry of Cosmetic Surgery Partners lectures at international conference in Rome.
On 17th – 18th April in the stunning city of Rome, our specialist cosmetic surgeon, Mr Miles Berry, had the honour of attending the 4th International Breast Surgery Workshop. Invitation only, the very best cosmetic surgeons met from across the world to discuss a range of topic's on breast surgery.
Mr Miles Berry was invited to contribute to the workshop, giving a lecture on the long term issues of PIP breast implants and how to help patients in need of breast implant replacement surgery. Reporting to PMFA (a bimonthly magazine of plastic & maxilla-facial surgery and aesthetic medicine), Miles explains: 'Having not actually been aware of the previous three I was intrigued and keen to plug this hole in my knowledge. Moreover, Rome is a pleasant city and always worth a visit. It was endorsed by an august range of bodies including the Italian Ministry of Health, SICPRE (the Italian society), BAPRAS and EURAPS.'
The International Breast Surgery Workshop takes place once a year, giving cosmetic surgeons the chance to meet up and discuss the most recent updates and breakthroughs in breast surgery. Starting with a live surgery session, the event goes on with a number of lectures held by leading names in the industry. 'The programme commenced at the deep end with a live demonstration of mastectomy and immediate breast reconstruction,' not a meeting for the faint hearted. 'The Gala Dinner was most welcome, even if chocolate ravioli was not to everybody's taste!'
We are extremely proud that Mr Miles Berry was invited to contribute at the 4th International Breast Surgery Workshop. 'All in all a surprisingly well-balanced, informative and enjoyable meeting that I would not hesitate to attend again and am happy to recommend.'
Author of The Good Boob Bible, Miles Berry MS, FRCS (Plast) is a leading consultant plastic surgeon for Cosmetic Surgery Partners, and has worked in the industry since 2007. He is a specialist (GMC Specialist Register: Plastic Surgery) based in London, with a broad expertise encompassing breast surgery, facial rejuvenation, body contouring, gynaecological enhancement and transgender surgery.
To read the full report, please visit website www.pmfanews.com
To book a consultation with surgeon Mr Miles Berry please call us on 0207 486 6778.