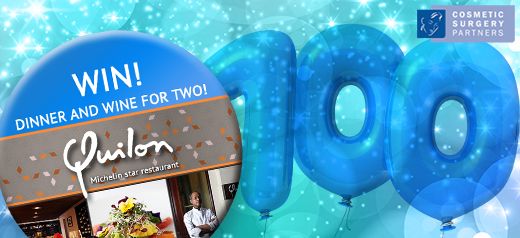 Today we have hit a major milestone in our online journey, our 100th blog post! So, before we begin this post we'd like to take a minute to thank all of you, our readers, for coming back week after week to keep up to date with the latest cosmetic surgery news and updates, we hope we've kept you entertained and you feel as though you've learnt something. We are proud to bring you quality articles which we feel has established Cosmetic Surgery Partners as a voice of reason and authority when it comes to all things cosmetic surgery!
To celebrate our 100th blog post and to say thank you to all of our readers, we're running an exciting competition over on our Facebook page. To enter our competition, all you need to do is like our Facebook page and enter your details and you'll be entered into a draw to win dinner for two at the award winning, Michelin-starred restaurant Quilon in London!
Since we've been getting a little bit nostalgic looking back over our blog, we thought we'd share some of what we consider to be some of our greatest achievements with you all.
1) The Good Boob Bible – a complete guide to breast surgery
The Good Boob Bible is a book written by our very own Dai Davies and Miles Berry, and provides a wealth of information about breast surgery, coupled with real life stories and personal experiences. Lateysha Grace, star of MTV's The Valleys and Cosmetic Surgery Partners patient was such a big fan she even filmed a video recommending The Good Boob Bible!
2) Nick Percival features on Botched Up Bodies
When it comes to cosmetic surgery, it is vital that you choose a surgeon who you can trust completely. There are no end to the horror stories that surface about people who have had unsuccessful procedures and come to a trusted surgeon to fix the damage. Botched Up Bodies is a Channel 5 series that follows Britain's top surgeons as they try to correct these problems, and Nick Percival was asked to feature on the show.
3) Nick Percival performs breast reduction surgery on My Naked Secret
Following on from his TV appearance on Botched Up Bodies, Nick Percival also appeared on My Naked Secret, where he performed extensive surgery on a woman who had been struggling for year with her heavy and uncomfortable 36KK breasts.
4) Cosmetic Surgery Partners becomes a firm favourite with celebrities
At Cosmetic Surgery Partners, we pride ourselves on offering a personal yet professional service to all of our patients, no matter who they are. Patient satisfaction has always been important to us and has paid off, with patients choosing us time and time again, including celebrities such as Lateysha Grace and TOWIE star Chloe Sims, who had breast augmentation surgery and buttock implants with us.
5) Nick Percival helps Paddington train crash survivor Pam Warren
Back in 1999, Nick Percival was the on call plastic surgery consultant at Charing Cross Hospital when the Paddington Rail Disaster took place. Pam Warren, one of the survivors, was admitted to the hospital with severe burn injuries, which Nick had to attend to. Pam went on to publish a book, From Behind the Mask, which told the story of her injuries and heroic healing journey and discussed how grateful she was for all of Nick's help.
6) Miles Berry gives breast surgery advice on BBC radio
Back in 2013, Miles Berry was asked to appear on BBC Radio Solent, where he was interviewed by Katie Martin. During the interview, Miles spoke about breast surgery and a range of other topics which once again cemented Miles as a voice of reason and expertise.
7) Miles Berry gets Bupa consultant recognition
Our surgeons are all considered to be experts in their individual fields, and pride themselves on being the best at what they do. Last year, Miles Berry had his hard work recognised by Bupa, when he received Bupa consultant recognition. Being recognised by Bupa is considered to be one of the highest possible medical accreditations a surgeon can receive and we are proud to say that now all of our surgeons have received this accreditation.
8) Cosmetic Surgery Partners' sponsored F3 driver wins the 2014 MRF Challenge Championship
In January, we were thrilled to announce that 18 year old Toby Sowery had won the 2014 MRF Challenge Championship. Toby is an F3 driver who has been sponsored by Cosmetic Surgery Partners for some time, so we were all very proud when he won his much deserved title!
9) Miles Berry speaks at the Fourth International Breast Surgery Workshop
The annual International Breast Surgery Workshop is an event where the very best cosmetic surgeons from around the world meet to discuss a range of topics, including the most recent updates and breakthroughs in breast surgery. Miles Berry was invited to attend the Fourth International Breast Surgery Workshop, taking place in Rome, where he would give a lecture on the long term issues with PIP breast implants.