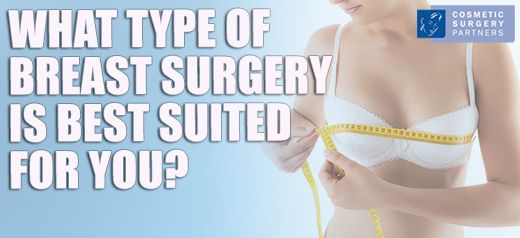 When people discuss cosmetic surgery, breast surgery is often the first thing that springs to mind, and for good reason. For many years, breast surgery has held the top spot as the most popular form of cosmetic surgery undergone by women in the UK.
No two patients are exactly the same, and different people will be looking to achieve different results with cosmetic surgery. While some may want to increase the size of their breasts (breast augmentation or breast implant surgery), others may want to reduce them (breast reduction surgery), or maybe replace old implants (breast implants exchange) or simply lift and reshape their breasts (known as a mastopexy or breast uplift). Because of this range of different needs, a range of different procedures have been created for women wanting breast surgery.
So, what different types of breast surgery are available to patients?
Breast augmentation surgery
Breast augmentation surgery, often referred to as breast enlargement surgery, is a procedure which involves inserting implants to make your breasts appear bigger, fuller and more symmetrical. The size and shape of your breasts can be affected by a number of different things, such as age, weight loss/gain and pregnancy. There are many different ways to perform the procedure; our surgeons will be able to advise you during your consultation.
Breast reduction surgery
While many people will wish that their breasts were larger, many others will be unhappy for the opposite reason, feeling as though their breasts are too large. For people who feel as though their large breasts are causing them physical discomfort or emotional distress, breast reduction surgery can help alleviate these feelings giving the patient the ideal body contour they have always dreamed of having.
Breast uplift surgery
Breast uplift surgery, sometimes referred to as mastopexy, is a procedure for lifting and reshaping sagging or drooping breasts, a condition associated with the ageing breast. While this procedure does not specifically alter the volume or size of the breasts, it can be performed in conjunction with an augmentation or reduction in order to achieve the patient's desired size of breast.
Breast implant exchange surgery
At Cosmetic Surgery Partners, the Nagor implants we use carry a lifetime guarantee. However, the same cannot be said about all other brands of breast prosthesis. Many patients we see at the clinic require breast implant exchange surgery due to having older generation or sub-standard breast implants. Many people will recall the most famous case of faulty PIP breast implants which affected a shocking number of patients – our surgeons have successfully aided hundreds of such patients. There are, however, less sinister cases were patients who have breast implants simply want to adjust the size and shape of their existing breast implants, opting for a larger or smaller size such as the recent case of celebrity Katie Price.
Inverted nipple correction
An inverted nipple is where a nipple will retract into the breast instead of pointing outwards as usual. It is estimated that up to 10-20% of women have suffered with this to some degree, often after undergoing rapid weight loss. Luckily, this does not need to be a cause for concern, as it can be dealt with through inverted nipple correction surgery.
Cosmetic Surgery Partners are experts at breast surgery
At Cosmetic Surgery Partners, we have a wide breadth of unique experience in breast surgery, having developed and introduced a number of industry leading techniques (such as the now widely adopted ABBA breast surgery technique). Miles Berry, one of our consultant plastic surgeons, specialises in breast surgery, and has authored a number of scientific articles, as well as publishing The Good Boob Bible (an indispensible guide to breast surgery) with world famous cosmetic surgeon Dai Davies.
If you're considering undergoing breast surgery, get in touch with our team today to see how we can help. You can do so by using our contact us page or by calling in on 0207 486 6778 where our experienced staff will be happy to answer any questions you may have regarding your given breast surgery procedure. We also recommend you check out our patient testimonials page where you can read and watch videos of patients who have had breast surgery at our clinic.